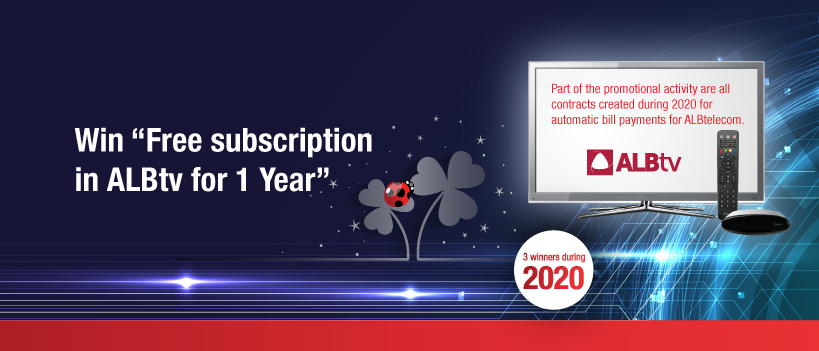 Free Subscribe for ALBtv for 1 Year
For the monthly Automatic Payment for Albtelecom, for individual customer contracts opened during 2020.
The winner customer will benefit from the "Free subscription for ALB TV for the period of 1 year".
Every monthly execution of payment contract for Albtelecom's Automatic Monthly Invoice, opened within 2020, will be classified as a "ticket" for the promotion activity.
All valid transaction will be cumulative within the period for the promotion activity, and from the tickets generated from these transactions one (1) winner will be selected for each promotion activity.
The transaction date should be within the period defined for promotion activity respectively: April 2020, August 2020 and December 2020.
Transaction from BKT staff will be excluded from this prize.
*The winner of "Free Subscribe for ALBtv for 1 Year" will be excluded from the following promotion activity during Year 2020.