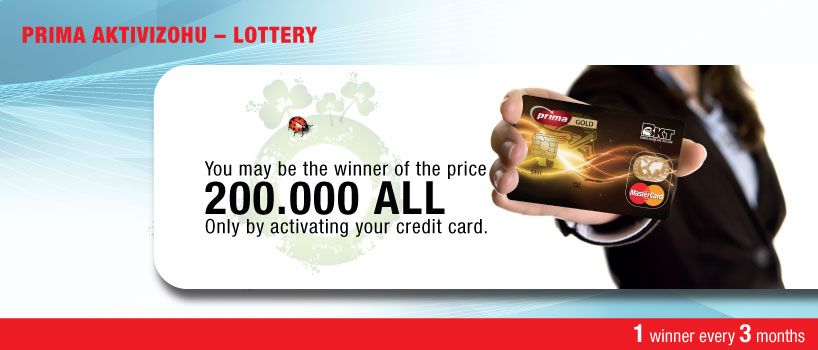 Prima Aktivizohu – Promotional activity
Besides Prima Falas monthly promotional activity where is selected 1 winner every day, BKT come with a second promotion which aim the activation and first transaction of Prima Cards. All prima cards issued by BKT that will be activated for the first time within 3 months and have make a transaction until 5th of the following month, are a "ticket" to participate in the promotional activity. New card activation together with first transaction generate a number which serves as promotional ticket. All new activated Prima cards that have done a transaction will be collected and with generated ticket will be selected 1 winner every 3 month.
Participant in promotional activity:
All Prima credit cards issued by BKT MasterCard Standard, MasterCard Gold, Visa Classic and Visa will be part of the promotional activity.
Secondary and Supplementary card will participate as long as they fulfilled campaign criteria's but if winning ticket comes from a transaction performed with the supplementary card, the price will go to the main cardholder, which is also responsible for the obligations of the supplementary card. In this case bonus will be as much as limit of supplementary card.
BKT staff will be excluded from promotional activity.
Promotional Activity Duration:
Promotional activity enters into force on 1st January 2020 and will operate on 3 months basis. There will be a winner every 3 months.
Winners Award:
To the winning ticket, cardholder will be credited in card as bonus ponit the total amount of card limit. Reward will be as much as card limit, maximum 200,000 ALL. A winner cardholder with card limit higher than 200,000 ALL can benefit from the promotional activity but the credited value will be maximum 200,000 ALL.
Prices distribution:
The distribution of the winners price will be shown in the next Credit Card Statement.
Draw and Winner Announcment:
The lucky draw will be organized in accordance with all the regulations and law, in presence of representatives by the Unit of Gambling Supervising, the Regional Tax Office, the notary and Bank representatives. The draw will be:
For the first quarter- Draw will be held in April 2020
For the second quarter- Draw will be held in July 2020
For the third quarter- Draw will be held in October 2020
For the fourth quarter- Draw will be held in January 2021
Winner selection mechanism:
The winners will be chosen randomly as per the below mechanism:
All new credit cards activated during the quarter accompanied with the first transaction will be saved in card system with all their respective details such as, card activation date, card type, date of first transaction, amount of transaction, type of transaction, place of transaction, name of cardholder ets. From all new credit card activated during the quarter will be chosen only those ones that meet the criteria of first transaction. So all new credit cards will be put in a "Promotional Pond" and will be counted by assigning a ticket number. For each list within the quarter with valid transaction, will be selected a winning ticket which will be credited as bonus point in card total card limit, maximum 200,000 ALL. The winning ticket will be selected through random choice by a lucky draw. Every cardholder can win only once in three month.