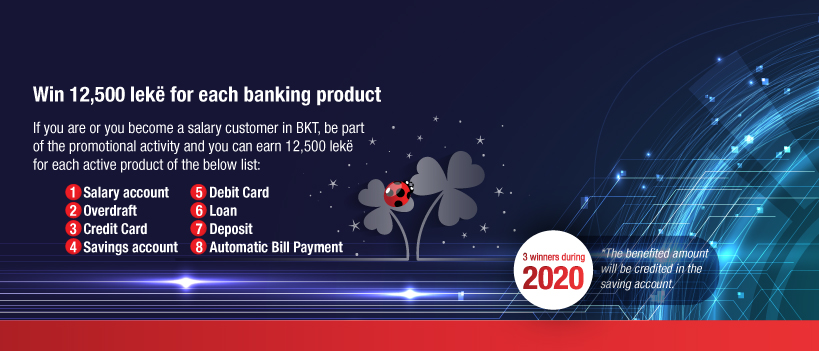 Price for new and existing salary customer in BKT – Win 12,500 All per each active bank product.
The prize will be selected from BKT Salary customers that have at least one salary payment with BKT during the promotion activity period and the account has the salary category at the date when the list is generated.
The winner of this prize will win 12,500 ALL cash back on the saving account for each active product in the list below until the date define for this prize.
The list of products that salary customer should have in BKT, in order to have the option of multiple cash back it is as follow:

Salary payment
Overdraft
Saving account
Debit Card
Credit Card
Loan
Deposit
Automatic Bill Payment
The summary list of clients fulfilling the above criteria will be prepared at the end of each period defined to throw the promotion activity. Every client will have a participating ticket. From the generated tickets of the list it will be selected 1 winner, respectively: April 2020, August 2020 and December 2020.
The winner customer will lose the prize if he/she does not have an open saving account within 3 months from the winner announcement.
All the winners are subject of tax on the incomes at the source.